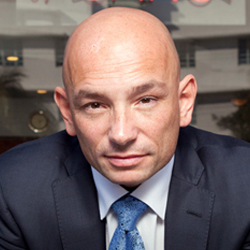 Anthony Melchiorri
Host, Travel Channel's
Hotel Impossible
PREVIOUS SPEAKER PAGE
Anthony Melchiorri was a featured speaker at HotelSpaces '17. Read a summary of his session here.
Anthony Melchiorri, TV personality and host and creator of "Hotel Impossible" on Travel Channel, has more than 20 years' experience in the hospitality industry. His storied career began as the Night Manager of the iconic Plaza Hotel, but in just 18 months, he worked his way up the ladder to become the Director of Front Office Operations there. With the instinct to know exactly what needs to be fixed the minute he enters a hotel, Anthony has transformed some of the nation's finest pedigreed properties, including New York City's prestigious Lucerne and Algonquin Hotels. In addition to being a  Travel Channel host, Anthony is also Managing Director of Argeo Hospitality, his hospitality consulting firm, which specializes in revenue management, brand development, sales and marketing, and provides consultation on hotel projects for private owners and investors.
His Greatest Success Story
Raised in Sheepshead Bay, Brooklyn by a single mom, Anthony's childhood was marked by instability and the persistent struggle to make ends meet. Fueled by the desire to escape the chaos of his youth, Anthony graduated high school and joined the United States Air Force where he was assigned to the Whiteman Air Force Base in Missouri as a protocol officer.  Charged with managing the base's VIP lounge and catering to the needs of visiting dignitaries and officials, the experience sparked his interest in the world of hospitality. The post turned out to be a very formative experience, one which taught the lesson that though one can never know who will next walk through the door, every guest should be made to feel comfortable, regardless of rank, title or perceived importance. It was during this time that the initial seeds were sown for "everyday excellence," a concept, mission and mantra that would ultimately inform Anthony's professional life.
Though not a natural-born student, Anthony's determination to improve his circumstances led him to simultaneously enroll in night courses at Park University (Parkville, MO), where he earned his bachelor's degree and became the first member of his family to graduate from college, and to work weekends at the Embassy Suites in Oberlin, KS, to cover his expenses, all while serving in the military.
The $10,000 Martini Man
Leaving the military with a bachelor's degree and his first taste of the hospitality business, Anthony landed a career-defining position as the director of front office operations at The Plaza in New York.
Subsequently, in 1997, at age 29, Anthony was appointed general manager of The Lucerne Hotel. Under his management, the Lucerne developed into one of the top-ranking hotels in New York City and was selected as the New York Times Travel Guide's best service hotel.  In 2005, Anthony was named general manager of New York's historic Algonquin Hotel, which at the time had declined to become a shell of its glory days. Once on board, Anthony convinced the owners to shut their doors for 29 days as he led a $15 million renovation. Not only did he complete the project on schedule and on budget, but he and his team repositioned the Algonquin to become a highly-rated, award-winning Michelin Guide hotel.  To remind the public of the newly enhanced property's storied past as a 1920's hangout for celebrities such as actor Harpo Marx and poet Dorothy Parker of the hotel's iconic Round Table,  Anthony and team created a new menu item: the $10,000 'Martini on the Rock,' a made-to-order Martini garnished with a single, loose diamond.
In 2009, Anthony transitioned to the asset management side of the hospitality industry, becoming the first vice president of Tishman Hotels and the asset manager of the Westin Hotel in Times Square. As senior vice president of New York Hotel Management Co., he helped develop a 310-suite hotel in Times Square, overseeing construction, design, pre-opening, opening and post-opening operations. When his work was complete, the TripAdvisor guest satisfaction score for the hotel had reached 96%, putting the hotel in the second percentile of all hotels in New York City.
From Night Manager to Network
After years of refreshing and rebranding some of New York's most iconic hotel properties, Anthony was ready to take on a new challenge. Inspired to share his talents and expertise with a wider audience, he created the concept that eventually became Travel Channel's hit series "Hotel Impossible." The series, which just wrapped its eighth season, follows Anthony as he helps hotel owners give their struggling businesses a facelift, setting owners up for lasting success by implementing changes including staff retraining, gut renovations, and brand repositioning.
In 2010, Anthony founded Argeo Hospitality, a hotel management and consulting company. Through Argeo takes on clients in need of development or immediate repositioning, applies his experience and ability to assemble teams specialized in hotel management, and adds value for the owners and developers to ultimately increase their bottom line. Committed to preaching the gospel of "everyday excellence," Anthony's direct and honest approach helps his clients take ownership of their success and empowers them to make the tough decisions needed to achieve their goals.
He currently resides in Brooklyn, New York with his wife and 3 children.