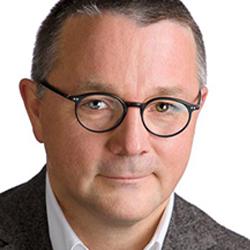 Christian Urbat
SVP of Design & Construction
MGM Resorts International
PREVIOUS SPEAKER PAGE
Christian Urbat was a featured speaker at HotelSpaces '16. 
Christian Urbat serves as Senior Vice President of Design & Construction for MGM Resorts International. Prior to MGM, Christian was the SVP of Technical Services for the Carlson Rezidor Hotel Group, which is a subsidiary of Carlson Companies. He was responsible for the technical development of all new and existing properties in the Americas including the development of the Radisson Blu properties in Chicago and Mall of America (Minneapolis) and the next generation of Country Inn and Suites that serve as a benchmark for global development.
Before assuming the role of Senior Vice President Technical Services for the Carlson Rezidor Hotel Group in January 2011, he served as Vice President of Technical Services of Hyatt Hotels Corporation Europe, Africa and Middle East (EAME) and was responsible for the company's design and construction of all new developments and existing properties and for establishing and developing the regional design, construction and project team.
Mr. Urbat is a seasoned executive with global design and construction experience in the U.S., Europe, Africa, Middle East and Asia.
Prior to joining Hyatt Hotels Corporation EAME, he held key senior corporate and operational management positions with Hyatt International Corporation from 1994 to 2006.
Mr. Urbat received his Bachlor of Arts in Hotel Management degree and his Masters degree in Culinary Arts from the Hotel School Altoettingen, Germany.