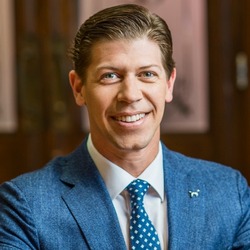 Dupree Scovell
Managing Partner, Chief Investment Officer
Woodbine Development Corporation
T. Dupree Scovell is the Managing Partner and Chief Investment Officer at Woodbine Development Corporation, a full-service real estate company that specializes in hospitality. He got his start in the hotel business at the age of 16, working as a dishwasher at Hyatt Regency Dallas. In 2011, Dupree joined Woodbine and expanded its footprint with the opening of a West Coast office in Los Angeles before returning to Dallas in 2019.
Currently, he and his brother, King, work together as managing partners to lead the team, cast vision, and provide strategic direction for the company. Dupree is also responsible for Woodbine's acquisition platform and capital markets efforts, as well as overseeing Woodbine Legacy Investments, a private equity fund dedicated to the acquisition and development of upscale select-service and full-service branded and boutique hotels throughout the United States.
Prior to joining Woodbine, Dupree spent five years working for Trammell Crow Company in Dallas, where he focused on retail and mixed-use development projects. He was named one of "Tomorrow's Newsmakers" by the National Real Estate Forum and was listed among "40 Under 40" by the Dallas Business Journal, which spotlights local executives for their professional and civic contributions to the local community. Early in his career, he was recognized by Dallas CEO magazine as one of the "Top 30 Real Estate Professionals Under 30." Recently, he was named one of the Dallas CEO magazine's 500 most powerful business leaders in Dallas-Fort Worth.
Dupree earned four bachelor's degrees from Texas Tech University and two master's degrees from Stanford, including a M.Ed. from the Stanford Graduate School of Education and an MBA from the Stanford Graduate School of Business. Beyond real estate and hospitality, his passions include supporting public education, racial reconciliation, and organizations that prevent human trafficking.