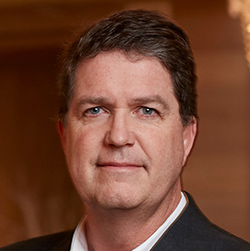 Greg O'Stean
Chief Development Officer
Interstate Hotels & Resorts
PREVIOUS SPEAKER PAGE
Greg O'Stean was a featured speaker at HotelSpaces '18. Read a summary of his session here. 
Greg O'Stean is the Chief Development Officer – North America, for Interstate Hotels & Resorts. Greg is responsible for driving overall business growth across North America. Prior to joining Interstate, Greg held executive roles with Loews Hotels, Carlson Rezidor Hotel Group, Piper Jaffray, GE Capital, and Starwood Hotels & Resorts. Greg is a proven hotel industry leader, with a rich history of delivering exceptional results and leading teams to achieve extraordinary growth.
A global leader in third-party hotel management, Interstate Hotels & Resorts' depth of experience across all lodging segments and asset classes drives results in each of its managed hotels worldwide. For more information on Interstate Hotels & Resorts, visit www.InterstateHotels.com.