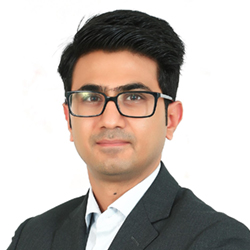 Himank Goswami
Senior Manager, Global Design & Technical Services
Emaar Hospitality Group
PREVIOUS SPEAKER PAGE
Himank Goswami was a featured speaker at HotelSpaces '17 & '18. Read a summary of his session here.
An Architect, global hospitality design executive and a Columnist, Himank Goswami brings more than a decade of experience with blue-chip companies such as Dubai based Emaar Hospitality Group and the award-winning Oberoi Hotels & Resorts in successfully managing multimillion-dollar hotel developments in Asia, Middle East, Europe & Africa. His experience encompasses design management, brand compliance, feasibility studies, development, project and Asset Management of a variety of premium luxury, upper upscale, upscale lifestyle & contemporary midscale hotels, resorts, safari lodges, serviced & branded apartments, both as an 'owner-branded operator' as well as under HMAs.
A columnist with articles published in various International, online & print hospitality magazines such as Hotel News Now, eHotelier, HospitalityNet, Hotel Online, Hotelier India & Hotel Business review. With a bachelor's degree in Architecture along with certifications from eCornell, USA (Hotel real estate investments and Asset management), The London School of Economics (MBA Essentials) and an ongoing MBA in Hospitality from Ecole Hôtelière De Lausanne, Switzerland, Himank brings-in a unique skillset, both from Design, Technical Services & real estate development standpoint as well as Business management and Strategic growth
Himank also spoke at HotelSpaces 2017. You can read a summary and watch a video of his talk here.