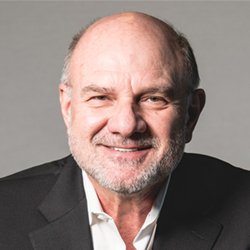 Howard Tribble
SVP of Design & Construction
Caesars Entertainment
PREVIOUS SPEAKER PAGE
Howard Tribble was a featured speaker at HotelSpaces.
Howard Tribble has enjoyed a dynamic career from construction tradesman to corporate executive and entrepreneur, resulting in 40 years of incomparable, diverse experience in the real estate development, architecture, engineering and construction (AEC) industries. Projects include new ground-up developments of high-rise commercial and multi-dwelling properties, resort destinations, casinos, hotels, retail, restaurants, institutional, industrial, and parking structures throughout the United States and internationally. Single projects range in size to over one million square feet, and in value in excess of one billion dollars. Cumulatively, Howard has completed projects in excess of ten billion dollars.
Howard has also become passionate about the financial markets, and has become an astute investor. In 2005, he created Tribble Investments, a Private Equity Firm that invests in stocks, bonds and commodities. Tribble Investments is also an angel investor of start-up businesses seeking seed capital.
In addition to his executive career, Howard serves on several non-profit boards, including the National Association of Minority Contractors, Las Vegas Chapter, since 2010. He is also fully committed to the Cystic Fibrosis Foundation, serving since 2014 as the Nevada Chapter President, and is also a member of the National Fundraiser Committee for the charitable organization. Further, Howard is a board member of his parish Finance and Building Committees, since 2010. Formerly, Howard served on the board of directors of Safe Nest for three years, a Las Vegas organization providing temporary assistance for domestic crisis.
Howard attended the College of DuPage in Glen Ellyn, Illinois. He has acquired multiple certifications and licenses, including contractors licenses in California and Nevada; and in 2014 was inducted in to his high school Hall of Fame.