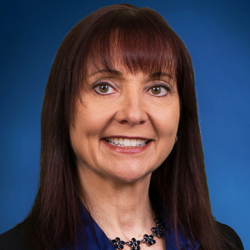 Jeanne Starling
Director of Design Development
MGM Resorts Design & Development
PREVIOUS SPEAKER PAGE
Jeanne Starling was a featured speaker at HotelSpaces '17. 
Jeanne Starling is the Director of Design Development for MGM Resorts Design & Development. She leads the design services provided by the in-house studio and facilities relationships with the design consultants engaged by the company. Ms. Starling is responsible for generating excellence in each design project and ensuring that the company's branding vision is reflected in each complete venture. Over the past 12 years with MGM Resorts International, she has been called upon to provide strategic and operational leadership for hunderd of hospitality and gaming projects. Highlights include leading the interior design team for all MGM Resorts International hotel remodels, interior design for key entertainment and gaming venues and guiding design teams in sever brang debuts at MGM Resort properties.
Ms. Starling holds a Bachelor of Science in Art – Interior Design from the University of Wisconsin – Stout and is a registered designer in Nevada and Florida. She enjoys teaching interior architecture and exploring design trends in an industry that is always envolving.