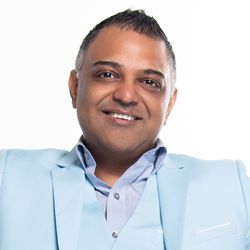 Ken Patel
Founder & CEO
EV Hotels
Ken Patel's goal is to revolutionize the hospitality industry with technology innovations that will create tech-centric experiences for guests and employees. He has worked in hospitality for 26 years. He graduated from one of the top ten hospitality schools in the world, Emirates Academy of Hospitality Management, where he obtained my MBA in International Hospitality Management.
Originally from the New York City area, Ken spent almost 34 years there and currently resides in the Atlanta area. He has been in hospitality since he was 15 years old, working 7:00 a.m. to 7:00 p.m. every Saturday and Sunday at a hotel during his junior and senior years of high school to help his parents financially. He has been in the world of hospitality ever since and has worked from the ground up to where he is today. He believes that if you surround yourself with great people, the journey will have a path.
FD, FOM, DOS, GM, Regional Director of Operations, Executive Vice President, Vice President Operations, COO, and CEO. Recently named as one of the Top 50 most influential hospitality leaders worldwide by Hospitality Power Index in 2021. Christian Dior Honoree for 2022 Man of the Year. Expert in operations, new builds, and PIP. C-level operations and development with over $500M. Managed over 100 hotels and 15,000 rooms in different roles.
EV Hotel is the world's first tech/automation and crypto hotel. In addition to accepting crypto payments, it will have the world's first crypto trade floor. The first EV Hotel, opening in downtown Phoenix in 2023, will have over 20 smart devices in each guest room and more automation throughout the property. Bathroom smart devices include smart mirrors, smart faucets, smart showers, and smart toilets. 
All the focus here is to lessen employee tasks and drive guest service while increasing the gross profit margins. Employees and guests will feel the real meaning of hospitality with this brand.
EV Human is the world's first all-in-one software. This software will help the hospitality industry with results and service. It will help our employees with better streamlined processes and create a less task-driven system. The EV Human Guest Experience App will create the ultimate guest experience like never seen before.