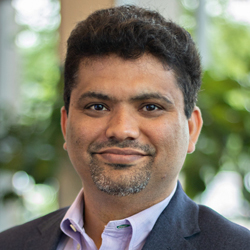 Krishna Paliwal
President, La Quinta Brand + Head of Architecture, Design & Construction
Wyndham Hotels & Resorts
PREVIOUS SPEAKER PAGE
​Krishna Paliwal was a featured speaker at HotelSpaces'19
​Krishna Paliwal serves as President of La Quinta Brand and Head of Architecture, Design and Construction for Wyndham Hotels and Resorts, an international hotel and resort chain based in Parsippany, New Jersey, United States. Wyndham Hotels & Resorts, Inc. is the world's largest hotel franchisor and leading hotel management services provider with approximately 9,200 hotels across more than 80 countries. Driving the democratization of travel, the company's global network consists of approximately 817,000 rooms under 20 hotel brands for the everyday traveler. 
With approximately 20 years of professional experience, Krishna Paliwal has been actively involved in design, construction and development of hotels since 2003. After joining La Quinta Inns & Suites in 2008, Krishna worked as a leader in the design and construction team with the successful launch of two prototype designs – Urban prototype design in 2009 and the industry's leading Del Sol prototype design in 2015. During his tenure at La Quinta Inns & Suites, he oversaw the design and construction of 350+ new construction and renovation projects. He brings extensive experience in end-to-end hotel development including project management, design, and franchise development. 
Krishna also led a team from 2015 to 2018 which managed the repositioning and renovating 54 La Quinta corporate owned hotels with the budget of $250+ million. He also managed the build back of several hurricane impacted hotels. 
In May, 2018 La Quinta was acquired by Wyndham Hotels & Resorts, Inc. and in June 2019 Krishna became La Quinta Brand President. He continues to lead the Architecture, Design and Construction teams of Wyndham Hotels and Resorts. 
Krishna and his team are working on the Company's goal of prioritizing new-construction growth with the launch of both new and refreshed prototypes designed to lower development costs and capture greater efficiencies, taking a page from the best practices of La Quinta by Wyndham and the success of the recent Moda prototype design launch from Microtel by Wyndham. Additionally, he is leading the team which is managing the development of new prototypes for the Wyndham Garden brand and Dual Branding La Quinta and Hawthorn Suites by Wyndham. 
Previously, Krishna served in management and design roles in architectural firms including Architecture & Engineering Solutions LLC (Phoenix, AZ) and Wadhwa and Associates, Inc. (Houston, TX). He has completed a Master's Degree in Construction Management Technology from University of Houston. 
Krishna resides in a suburb of Dallas with his wife Preeti, son Sai, and daughter Ishi. He is active in numerous civic and philanthropic organizations including the BSP Education Society, a non-profit organization promoting the education and empowerment for nearly 1,000 young women in northern India.