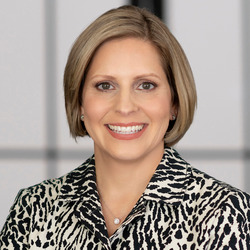 Laura McKoy
VP, Interior Design + Creative Director
Omni Hotels & Resorts
Laura Trussell McKoy, RID is the Creative Director + Vice President of Interior Design for Omni Hotels & Resorts. In her role since 2007, Laura oversees, manages, and directs the interior design efforts necessary for new development, capital improvement, and renovation projects. Additionally, she oversees both outside design consultants and an in-house design department.
Prior to joining Omni, Laura served as Director of Interior Design for CNL Hotels and Resorts in Orlando, Florida, where she oversaw the interior design for the REIT and ensured compliance with appropriate brand standards of 92 hotels consisting of 22 brands. Prior to joining CNL Hotels and Resorts, McKoy worked for BBGM Architects and Interiors in Washington, D.C.
Laura currently serves on the Leadership Board for the College of Human Environmental Science at the University of Alabama where she received her bachelor of science. Roll Tide! She is a native of Paducah, Kentucky.