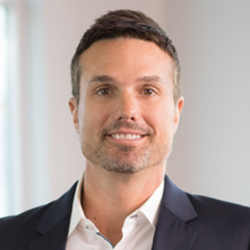 Michael Tall
President & COO
Charlestowne Hotels
PREVIOUS SPEAKER PAGE
Michael Tall was a featured speaker at HotelSpaces '18. Read a summary of his session here. 
Michael joined Charlestowne Hotels in 2004. Since becoming co-owner in 2008, he has made it a priority to recruit and hire the industry's top talent and to expand the company's portfolio. Under his leadership, Charlestowne Hotels' portfolio has doubled in size -twice- receiving prestigious industry accolades including Conde Nast Magazine's "Gold List" and "Top 100 Hotels in the World", Travel & Leisure World's Best Awards for the #1 City Hotel in the US and the #2 Hotel in the World, TripAdvisor's #1 and #2 Luxury Hotel in the US, and Smith Travel Research's "Best Performing Hotel in the US".
Previously, Michael worked for Rock Resorts (a subsidiary of Vail Resorts) as a corporate analyst as well as the director of revenue for the former Ritz Carlton Rancho Mirage. He has also worked with companies such as The Savoy Group, Kiawah Island Resorts, and Xerox. Michael has a Bachelor of Science degree in marketing from the University of North Carolina Wilmington and received his Master's Degree in Hotel Management from Cornell University School of Hotel Administration.
Michael sits on the Board of Governors and serves as Chairman for the Charleston Visitor's Bureau, is on the advisory board for the Boutique & Lifestyle Lodging Association, is an active member of YPO, and in the Cornell University School of Hotel Administration Alumni Association. He has been a guest lecturer and speaker at many university's and hotel industry events including The Hunter Investment Conference, various BLLA Conferences, Lodging Conference, several BITAC Conferences, NYU Investment Conference, STR Data Conference, HITEC, HI Connect Design, LifeSTYLE/Boutique Hotel Development Conference, Urban Land Institute Conference, and the Hotel Business Management Round-tables. Michael was recently chosen by the Southeast Tourism Society for the inaugural class of "Forty for the Future: Travel's Leading Talent". He is continually recognized for his forward-thinking approach to revenue creation.