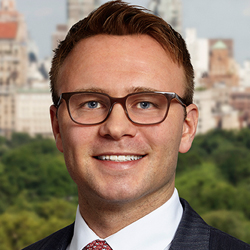 Mitch Garrett
Vice President of Acquisition and Development
Trump Hotels
PREVIOUS SPEAKER PAGE
Mitch Garrett was a featured speaker at HotelSpaces '17. Read a summary of his session here.
Mitch Garrett, Vice President of Acquisition and Development at Trump Hotels, brings more than 13 years of capital markets, hotel, and commercial and residential real estate experience to the firm. He is responsible for leadership of Trump Hotels development expansion across all United States based states & territories, including acquisitions, management contract and technical services negotiations. Mitch's solid financial background and creative energies bring a well-balanced skill set for targeting new brand and management opportunities, putting together the various components of a real estate development transaction, and creating new revenue generating concepts and designs.
His career includes experience gained as a Vice President of Development and Project Manager for a national hotel development and management company for over 5 years, as well 4 years as an investment banker for Citigroup's Capital Markets and Barclays Capital in New York where he focused on asset backed securitization and syndication. While with these organizations, Mitch has played a leadership role in the acquisition, development or management of over 20 hotels valued at over $1 billion and has underwritten and syndicated over $8 billion of real estate backed transactions and over $1 billion of other asset backed security transactions. Originally from Pittsburgh, PA, Mitch holds a BA in Economics from Rutgers University in New Jersey where he received a full academic scholarship and was a finalist in the Rhodes Scholarship Program at the University of Oxford. An active athlete, Mitch was a point guard for the men's varsity basketball team and was a member of the Big East Academic All-Star Team. He holds a Series 7, 63 and 24.