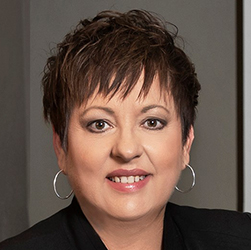 Patti Tritschler
President
IIG
PREVIOUS SPEAKER PAGE
Patti Tritschler was a featured speaker at HotelSpaces'19
Patti Tritschler is the founder and owner of IIG, an award-winning hospitality design, procurement and branding firm founded in 2004. Since its start, IIG has established locations in Northwest Indiana and South Florida. Under Patti's ownership, IIG is proud to operate as a certified National Women Owned Business Enterprise.
Patti's progressive and growth-minded strategy has fueled the development of the IIG team, along with the IIG portfolio of work, which include the prestigious hotel brands of Marriott, Hilton, and IHG. Designing customized select service projects built the firm's foundation and has now launched their performance capabilities into custom created boutique and lifestyle brands.
IIG's design capabilities span from select-service to custom designed full service and boutique hotel properties, which can also include procurement and branding services. Patti understands the value and importance of relationships and strives to build a lasting connection with each and every IIG client.