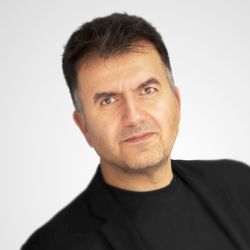 Rado Ivanov
VP, Global Design US & Canada
Marriott
In his current role as VP of Marriott Global Design US & Canada, Rado Ivanov overseas the design and construction of new build and conversion projects for Marriott's Premium Core Brands – Marriott, Sheraton, Delta, and Gaylord, throughout North America.
Rado's recent projects also include the New Marriott International Headquarters in Downtown Bethesda, Maryland, as well as the adjacent 245-key Marriott Bethesda Downtown Hotel, which opened on March 1, 2022, as Marriott's 8,000th property.
With over 25 years of strong and progressive experience, Rado lives and breathes design.  His expansive portfolio covers four continents and a diverse variety of project types. As a licensed architect, Rado blends great creative style with smart business sense, ensuring the balance of vision, quality, and operational excellence for each and every property. Rado's passion for architectural excellence thrives when and where design and travel converge.
In his free time, Rado loves skiing with his son, playing tennis, volunteering, and riding motorcycles. But, by far, his favorite hobby is flying airplanes. Rado holds a private pilot license and is currently working on his commercial pilot certificate.