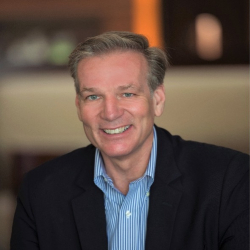 Randy Gaines
Senior Vice President of Operations and New Hotel Openings, Americas
Hilton Worldwide
Randy brings 25-plus years of experience to the Hilton Operations team. In this capacity, he is responsible for Property Operations and Operations for all New Hotel Openings in the Americas. Randy and his team also support all corporate sustainability energy conservation efforts across the Americas. Currently, Randy is an active chairperson for the American Hotel & Lodging Association's Sustainability Committee. Prior to his current role, Randy served as Vice President of Engineering, Housekeeping and Laundry Operations for the Hilton Americas Team.
Previously, he served as Vice President, Engineering Technical Services, for Host Hotels and Resorts, where he was responsible for maximizing the value derived from capital expenditures related to roofs, facades, MEP, building systems and energy conservation and procurement and served as the lead on all sustainability and green efforts. 
Prior to Host Hotels, Randy served as Corporate Director of Engineering for Yum Brands Inc. He also served as Vice President of Engineering/Housekeeping for White Lodging Services Corporation and held positions with Marriott International in the Lodging and Senior Living Services divisions.