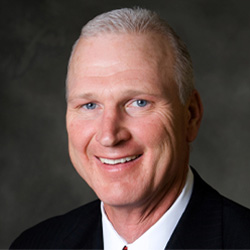 Roger Bloss
Founder & CEO
Alternative Hospitality
Roger Bloss has more than 40 years of experience in the hospitality industry. After serving in executive positions with several major hotel franchise companies, Bloss founded Vantage Hospitality Group in 1996 and acquired its first hotel.
Bloss' vision was to develop a national hotel chain based on an innovative membership model. Entering an industry with over 80 well-established legacy hotel brands, he was confident that his approach would reinvent the hospitality branding industry and change the way franchises were operated.
Vantage's unique Freestyle® Brand Affiliation Model offers hoteliers a voice and a vote in the brand's direction; low, flat fees; flexible agreements; and reasonable brand standards and PIPs.
Since launching Americas Best Value Inn in 1999, the limited-service brand has grown from two to over 1,000 properties and more than 65,000 guest rooms in North America, making it the 10th largest hotel chain in the world.
In 2009, Vantage launched Lexington by Vantage, a collection of inns, hotels and suites with a soft-branding option in the midscale to upscale segments.
In July 2014, Vantage acquired America's Best Franchising brands America's Best Inns & Suites, Country Hearth Inns & Suites, Jameson Inn, Jameson Suites, Signature Inn, and 3 Palms Hotels & Resorts. By combining brands under one umbrella, Vantage will continue to enhance its competitive advantage with a full line of brand segments that address the needs of both hotel owners and consumers.
Under Bloss' continued leadership, Vantage is now one a Top 10 Hotel Company with over 1,200 global properties and the only hotel company to be ranked eight consecutive years on the prestigious Inc. 500/500 List of Fastest Growing Companies.
Bloss' pioneering vision has earned him many industry accolades including two-time winner of Lodging Magazine's "Innovator of the Year;" HSMAI's "Top 25 Extraordinary Minds in Sales and Marketing;" an exclusive video on CNBC in which correspondent, Darren Rovell, stated that Vantage is one of the "fairest franchises" in the industry; and numerous national advertising and marketing awards.