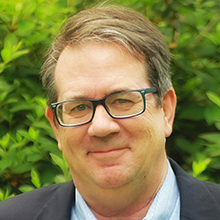 Ron Galloway
Author, Filmmaker &..
Technology Futurist
PREVIOUS SPEAKER PAGE
Ron Galloway joined us at HotelSpaces '17. Read a summary of his session here. 
Ron Galloway is a researcher and highly sought after speaker. He concentrates on the unintended effects of new technologies and trends…and the disruptions they cause in business & society
He is the author of "Rethinking PowerPoint," a study of the neurology of slide design best practices. He is the director of the controversial documentary "Why WalMart Works," which was the first film to ever have its premiere in the Capitol Building in Washington, DC.
He is a graduate of Georgia Tech in Industrial Management and has spoken before hundreds of business conferences. He is noted for his highly visual presentation style, which often involves hundreds of slides.
Ron has been featured on CNN, CNBC, MSNBC, ABC's World News Tonight and The Daily Show. He has been quoted in the Wall Street Journal, New York Times, Washington Post, and New Yorker magazine.