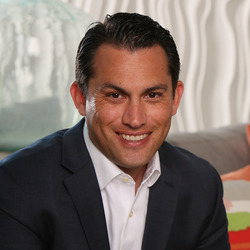 Stephen Medel
VP, Business Development
Pacifica Hotels
With nearly 24 years in the hospitality industry, Stephen is the VP of Business Development for Pacifica Hotels, a 50+ year company deeply rooted along the West Coast that specializes in the operation of lifestyle, premium select service, and full-service hotels. Along with a team of rockstars, Stephen is responsible for the strategic growth and expansion of the Pacifica portfolio through the acquisition of owned assets as well as third-party managed hotels.
Within the Pacifica Hotels portfolio is its Wayfarer lifestyle brand, which Stephen spearheads the growth of. The Wayfarer seeks to elevate the ever-curious traveler experience, highlighting the cultural intersection that is the breath of the city through public space art with a more urban raw approach. Showcasing a variety of flexible public spaces, local art installations, and interactive touches that entice one to dig deeper, The Wayfarer encourages discovery and exploration. In 2021, Pacifica won the Gold Key for Best Emerging Concept for its creation of The Wayfarer DTLA.
Stephen began his hotel career at a 5 Diamond property in Santa Barbara, California, followed by 12 years at Broughton Hotels with positions in both operations and acquisitions before joining Pacifica Hotels.