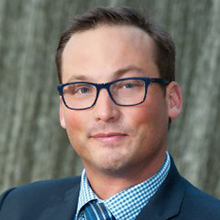 Todd Megrath
Executive Director of Sustainable Development
MGM Resorts International
PREVIOUS SPEAKER PAGE
Todd Megrath was a featured speaker at HotelSpaces '16. 
Todd Megrath is the Executive Director of Sustainable Development for MGM Resorts International. In this role, Todd is responsible for managing the incorporation of sustainability and other environmental best practices into MGM Development projects.
Todd has been with MGM Resorts since 2011 and most recently served as the Director of Sustainability Strategies. During his time in this position he developed and managed operational strategies to reduce the environmental impacts of the Company. Todd was responsible for conceptualizing programs and initiatives that supported and evolved the corporate strategic plan for environmental sustainability.
Prior to joining MGM Resorts, Todd served as a Project Manager and Sustainability Specialist for Environmental Health and Engineering, a consultancy in Needham, Mass.
Todd has a master's degree from Harvard University and a bachelor's degree from the University of Utah.
Before assuming the role of Senior Vice President Technical Services for the Carlson Rezidor Hotel Group in January 2011, he served as Vice President of Technical Services of Hyatt Hotels Corporation Europe, Africa and Middle East (EAME) and was responsible for the company's design and construction of all new developments and existing properties and for establishing and developing the regional design, construction and project team.
Mr. Urbat is a seasoned executive with global design and construction experience in the U.S., Europe, Africa, Middle East and Asia.
Prior to joining Hyatt Hotels Corporation EAME, he held key senior corporate and operational management positions with Hyatt International Corporation from 1994 to 2006.
Mr. Urbat received his Bachlor of Arts in Hotel Management degree and his Masters degree in Culinary Arts from the Hotel School Altoettingen, Germany.