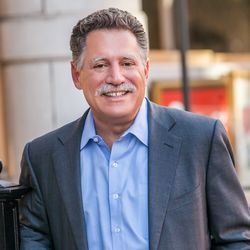 Walter Isenberg
CEO
Sage Hospitality
Walter Isenberg is the co-founder of Denver-based Sage Hospitality Group and serves as the company's President and Chief Executive Officer. Sage Hospitality Group and its four business divisions are known throughout the industry as leaders in hotel and restaurant management, development, real estate investment, placemaking, and brand building.  In his role, Walter directs the efforts of all divisions including operations, real estate investment, strategic design, and brand development, with an emphasis on community giving and teaching the next generation of great leaders.
Walter co-founded Sage Hospitality in 1984 with partner Zack Neumeyer, and the pair have worked together for more than 35 years to grow the company into what we know today. Sage's history in hospitality includes adaptive re-use of historic buildings, including the complete renovation of Denver's historic Union Station.  The company's exceptional place-making and brand building skills were brought to life in the mid-'90s as the company pioneered more than a dozen historic adaptive reuse projects. With decades of placemaking capabilities, Sage is now extensively involved in significant urban mixed-use projects including the full city block project, Dairy Block, which includes office, retail, hotel, and Denver's first activated alley. The company has grown through ground-up development, acquisitions, and third-party management.
Sage has decades of strong relationships with major hotel brands that include Marriott, Hilton, Hyatt, and IHG. Sage has also developed proprietary hotel and restaurant brands. Today more than 20 percent of the company's assets are unique and distinctive independent properties. In 2006, Sage formed Sage Restaurant Concepts, which creates and operates unique, high-volume restaurants adjacent to its urban hotels, upping the value and profits for Sage's investors. With more than 20 unique and distinctive restaurants, the company is an industry leader in developing and operating restaurants beloved by local residents and visitors alike.  
Sage Hospitality has been consistently recognized for its significant commitment to corporate citizenship. The company was the first recipient of Marriott International's "Spirit to Serve Award," which is given annually to a franchise partner that lives the vision to be an outstanding corporate citizen. Over the years the company has been recognized by customers and brand partners for its exceptional commitment to customer satisfaction. Sage Hospitality Group has also been an industry leader in implementing green operating practices, committed to developing Gold and Silver LEED certified hotels as well as making it a company-wide mission to make each of its hotels and restaurants as environmentally friendly as possible. Sage's development team has also won numerous awards, including ULI's Global Awards of Excellence, and has been nationally recognized as a leader in historic preservation.
A graduate of Cornell University's School of Hotel Administration, Walter is a member of the American Hotel Lodging Association Board of Directors Executive Committee and has served on several brand Owner Advisory Boards.  Walter was honored as the 2020 Most Admired CEO by the Denver Business Journal, and was inducted into Hospitality Design's Platinum Circle in 2017. In 2010, Walter was inducted into Denver & Colorado's Tourism Hall of Fame, which is the highest award given by Denver's travel industry. Active in the community, he currently serves on the boards of Visit Denver, The Downtown Denver Partnership, Colorado Concern, and the Metropolitan State University of Denver Board of Trustees.
Walter and his wife Christie have two daughters, Nicole and Tirunesh, residing in Denver.