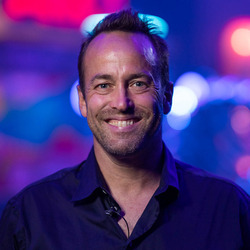 Winston Fisher
CEO
AREA15
Winston Fisher serves as Chief Executive Officer of AREA15, the world's first purpose-built immersive entertainment district located minutes from the Las Vegas Strip. AREA15 continues to grow in Las Vegas and across the globe. Welcoming nearly 4 million visitors since opening its doors in 2020, AREA15 Las Vegas will soon expand across 20 acres to its north. In addition, AREA15 announced its first licensed pop-up location as part of Riyadh's Boulevard World and its second permanent location coming to Orlando in 2024.
With a curated mix of dynamic destinations – including Meow Wolf's Omega Mart, LIFTOFF Bar & Ride, Lost Spirits Distillery, Illuminarium, Dueling Axes, Five Iron Golf, The Beast by Todd English, Wink World: Portals Into the Infinite, Museum Fiasco, Virtualis VR, Emporium Arcade Bar and many more – AREA15 represents what's next in experiential entertainment.
As CEO of AREA15, Winston exercises his creative muscles and characteristically ambitious vision every day. As a first-of-its-kind venture occupying its own, brand-new category, AREA15 represents the culmination of Winston's career-spanning passion for innovation and aspirational approach to every project he undertakes. He is the leading industry voice of the experience economy, speaking across the globe at conferences and conventions about the future of immersive experiences.
Winston hails from New York and has extraordinary experience in real estate and financial investing. Possessing a life-long interest in real estate while pursuing an early career in finance provides Winston with an exceptionally intuitive and knowledgeable business mindset.
Since Spring 2000, Winston has served as a partner for his family-owned and operated real estate company, Fisher Brothers. He directs the company's financial and investing activities, property acquisitions and dispositions, and oversees all new development initiatives. With experience across a broad range of transactions, he leads all financial analysis, due diligence, project capitalization efforts, and joint-venture partnerships for new and distressed real estate projects. In addition to his active participation in the company's development projects, he also manages the firm's day-to-day stock and investment portfolio.
Winston was recently named to the International Board of Directors of the Themed Entertainment Association (TEA). In addition, he is also recognized as one of Blooloop's "Top 50 Theme Park Influencers." An active civic leader, Winston also serves as a board member of many prominent organizations including the Partnership for New York City, the Real Estate Board of New York, Regional Plan Association, Citizens Budget Commission, and as a Life Trustee at Syracuse University. He also serves as the Co-Chair of the New York City Regional Economic Development Council.
Additionally, Winston is involved in a number of philanthropic activities, serving as a board member of the Intrepid Fallen Heroes Fund and of the Intrepid Sea, Air & Space Museum.
Prior to his career in finance, Fisher earned a Bachelor of Arts degree in philosophy from Syracuse University.